May 17, 2022
Press Contacts
Jodi Hausenfluke
214-346-6200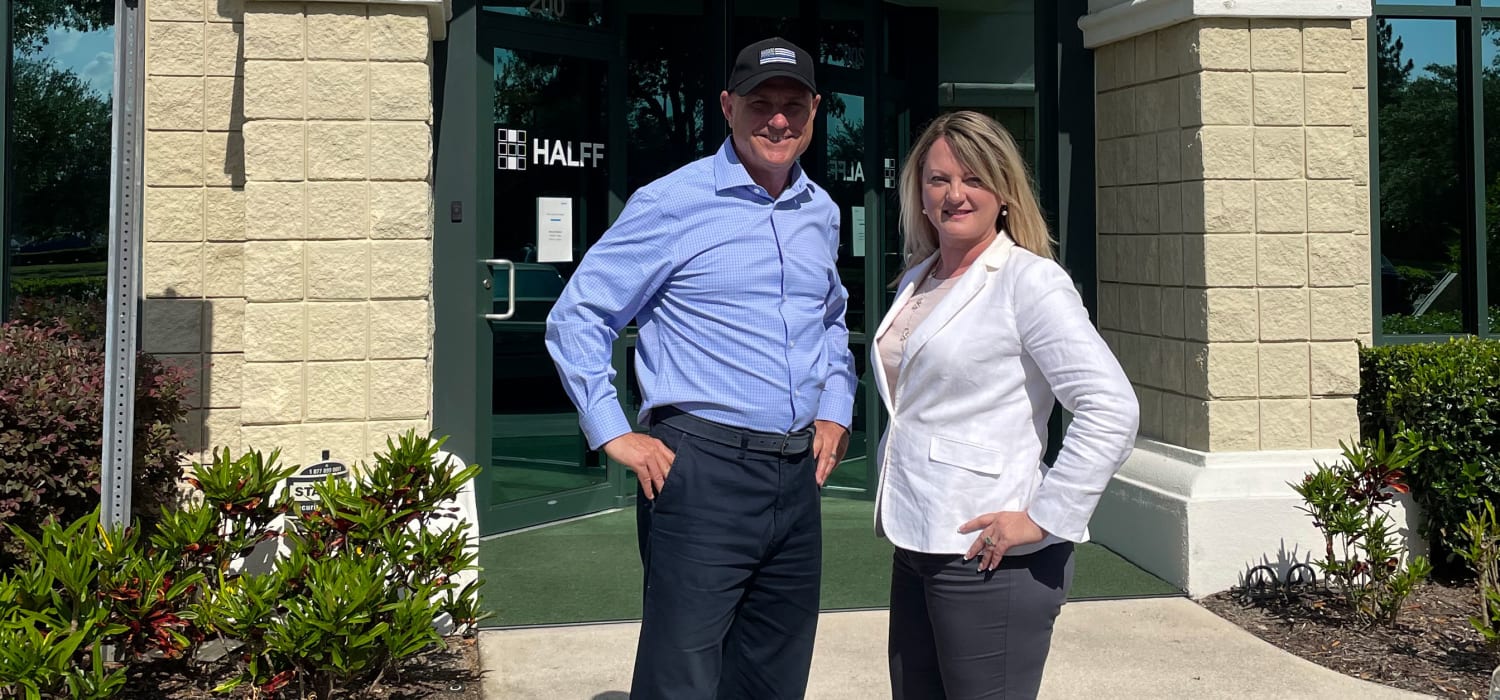 JACKSONVILLE, Fla. —
Halff Associates, Inc. (Halff), one of the nation's leading engineering/architecture firms, has expanded its architecture practice in Florida with the hire of Senior Program Manager Robert Smedley, AIA, DBIA, and Senior Architect/Project Manager/Interior Designer Marjorie Weibe-Reed, AIA, NCARB, ID.
The duo, which has a combined 67 years of experience, is based in Halff's Jacksonville office and will be advancing the firm's portfolio in federal, state, local government and private industries.
Smedley's accomplishments span nearly four decades with experience on diverse projects for public- and private-sector clients. His portfolio entails a broad range of project types and sizes encompassing programming, master planning, interiors, space planning, adaptive reuse, renovation and new construction with a focus on the design-build process and delivery method. He has worked for clients in numerous industries including aerospace, aviation, federal, health care, military and science and technology. Smedley is a certified member of the Design-Build Institute of America (DBIA) and serves on national and Florida region committees. Smedley has a pair of bachelor's degrees in Science and Architecture from The Catholic University of America in Washington, D.C.
Weibe-Reed has more than 25 years of experience in industries including aviation, commercial, government/federal, historic and institutional. As a senior architect/project manager/interior designer, she has been responsible for leading clients, teaming partners, consultants, stakeholders and multidiscipline teams through programming, design and construction administration on complex architectural projects. Weibe-Reed is past president of the American Institute of Architects (AIA) Jacksonville and represents AIA Jacksonville as state director on the AIA Florida Board of Directors. She holds a bachelor's and master's degree in Architecture from the Savannah College of Art and Design.
###
About
Halff is an award-winning, employee-owned, diverse and multidiscipline professional engineering and architecture firm. For more than 70 years, Halff has provided innovative solutions for clients throughout the United States. Halff is committed to the purpose of improving lives and communities by turning ideas into reality by continuously investing in its employees and fostering a culture of collaboration. Halff has 28 offices in Arkansas, Florida, Oklahoma, Louisiana and Texas. The firm is ranked No. 97 by Engineering News-Record. Halff is the No. 10 Top Workplaces USA nationally in 2022 as ranked by Energage for businesses with 1,000 to 2,499 employees. For more information about Halff, visit halff.com.