November 08, 2021
Press Contacts
Laura McGowan
The McGowan Group
630-863-8709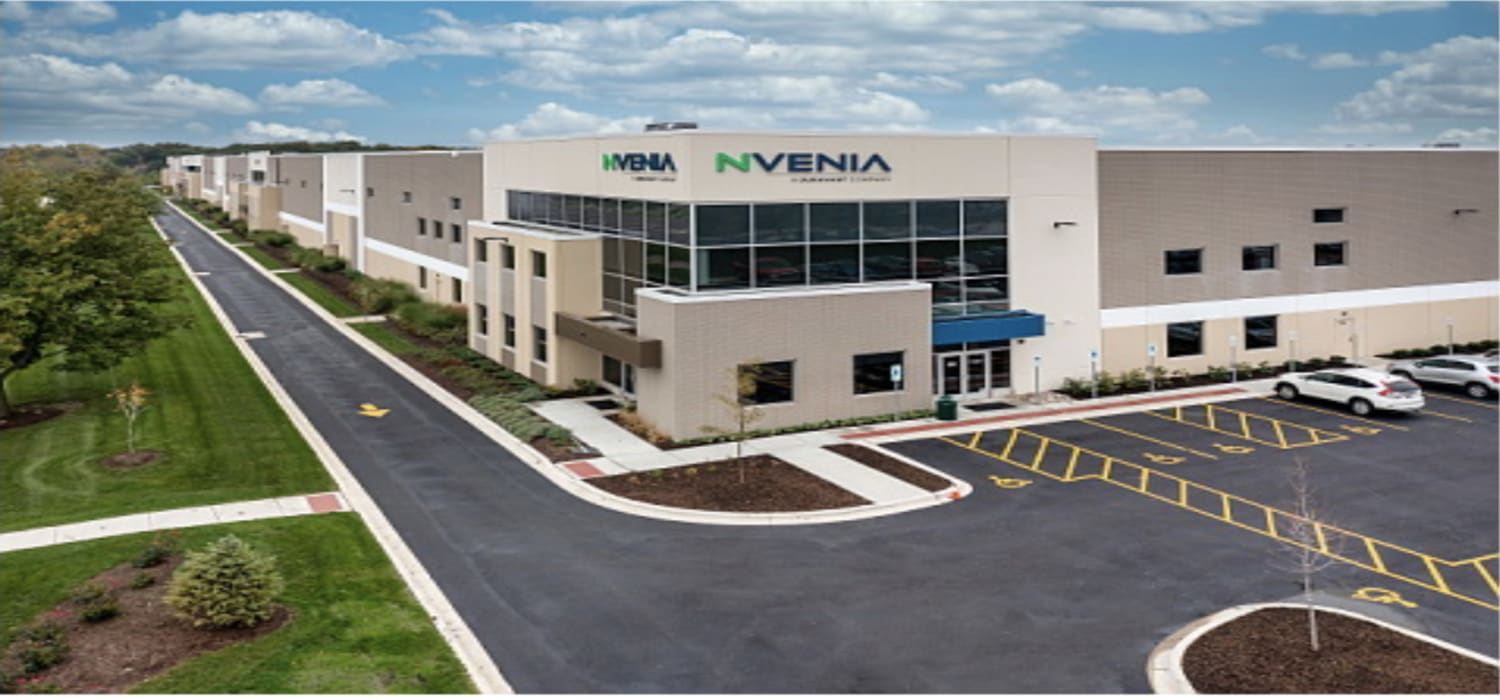 CHICAGO —
Pacific Construction has completed the design+build of a mixed-use corporate headquarters and production facility for nVenia, a Duravant company, at 750 N. Wood Dale Road in Wood Dale, Ill., with the added challenge of ongoing production during the construction process.
"At a time when many companies are experiencing unexpected delays to their work due to projects and production, Pacific was able to prioritize installation of equipment and non-intrusive strategies to build out this project with minimal impact to the client's business," said Bart Friedman, CEO of Pacific Construction. "We worked closely with Bridge Industrial, the owners of the building, to create a world-class facility that serves the needs of nVenia today and into the future."
The project involved two phases, one which prioritized the buildout of production areas including installation of manufacturing and finishing equipment, and the second which featured a complex buildout of office space within the existing structure without significantly impacting ongoing production.
"Completing a full design+build around a functioning production floor is not easy task," said Nick Siegel, partner at Bridge Industrial, owner of the property. "We worked closely with Pacific to prioritize installations of equipment so production could continue, especially during a time when disruptions on the floor could have significant impact for our tenant."
The resulting facility allows nVenia to seamlessly consolidate multiple brands and operations in Wood Dale, with the ability to accommodate additional staff through the creation of new jobs. The facility is designed to support 300 employees.
"nVenia's new home is a world-class facility with a state-of-the-art Customer Experience Center, outfitted with demonstration, lab and training capabilities designed to welcome customers and guests to engage with the complete nVenia family of packaging brands," said Thurman Melson, President of nVenia.
Phase One – Creating the Production Floor
Phase one of the project included:
Buildout of a 9,000SF production and engineering floor, including open office space, employee breakroom, locker room and restrooms
15,000SF welding and paint shop, which brought all fabrication and finishing in house
Installation of new and existing production machines on the warehouse floor
Installation of power, compressed air and underground plumbing to support the machinery
Phase Two – "A Building within a Building"
"The nVenia project was incredibly complex in scope, as it also involved building a two-story office space structure within the existing warehouse – basically constructing a building within a building," said Chad Sibigtroth, project manager at Pacific Construction. "That's a complicated build to complete alongside a fully operational manufacturing floor." Phase 2 of the project included:
Buildout of a 25,000SF two-story office space, which now houses nVenia's executive offices and engineering and sales staff
Executive office and conference spaces, breakrooms, meeting rooms, training spaces, call centers, human resource department
A customer experience space allowing for the nVenia team to train their clients on the products and machines they are building
The two-story office space also contained a two-story lobby that features a decorative glass staircase and mezzanine and large, spacious reception area with high-end finishes
Exterior Improvements:
New windows and storefront added to the existing façade
Installation of new canopies and awnings
Addition of an outside concrete picnic area
Parking lot striping and paving
"The nVenia project was a master class on design+build while minimizing disruption – especially under pandemic conditions, said Steve Bykowski, chief operating officer of Pacific Construction. "From the support of the City of Wood Dale and its inspectors to our strong working relationships with Bridge Industrial and Duravant/nVenia, this project is a testimony to strong partnerships and working relationships."
###
About
About nVenia
nVenia, headquartered in Wood Dale, IL, designs and manufactures primary, secondary and end-of-line packaging equipment, featuring the product brands of Arpac, Fischbein, Hamer and Ohlson. Serving targeted end markets including consumer packaged goods, food and beverage, pharmaceutical, agriculture and industrials, nVenia's focus is on delivering next-level packaging equipment, integration and innovation to our customers. Arpac brand equipment includes shrink wrappers, tunnels and bundlers, tray and case formers and packers, and robotic and conventional palletizers. Fischbein equipment is the trusted brand for open-mouth bag sewing and sealing systems. Hamer brand equipment is utilized worldwide and leads the market in large format filling, bagging, and palletizing; operating in some of the harshest production environments. Ohlson brand equipment features rugged solutions for automating weighing and counting operations into primary packaging of flexible and rigid containers. These trusted brands together deliver next-level performance through consultative design of integrated fit-for-purpose production lines. nVenia is a Duravant Company and is backed by SupportPro, a complete lifecycle management program for parts, service and support. For more information, visit www.nVenia.com.
About Pacific Construction
For more than 30 years, Pacific Construction has built complex projects for noteworthy clients throughout the United States. Based in Chicago, Pacific is general contractor, construction management and development services. As a multidisciplinary service provider, Pacific Construction's experience is multi-faceted having built projects such as the Fermilab R&D building in Batavia, Ill., the Adler Planetarium in Chicago and multiple hospital and military bases including the Army Reserve Center at Fort Sheridan. For more information, visit www.pacificconstructionus.com