August 02, 2021
Press Contacts
Michael Sullivan
508-577-9165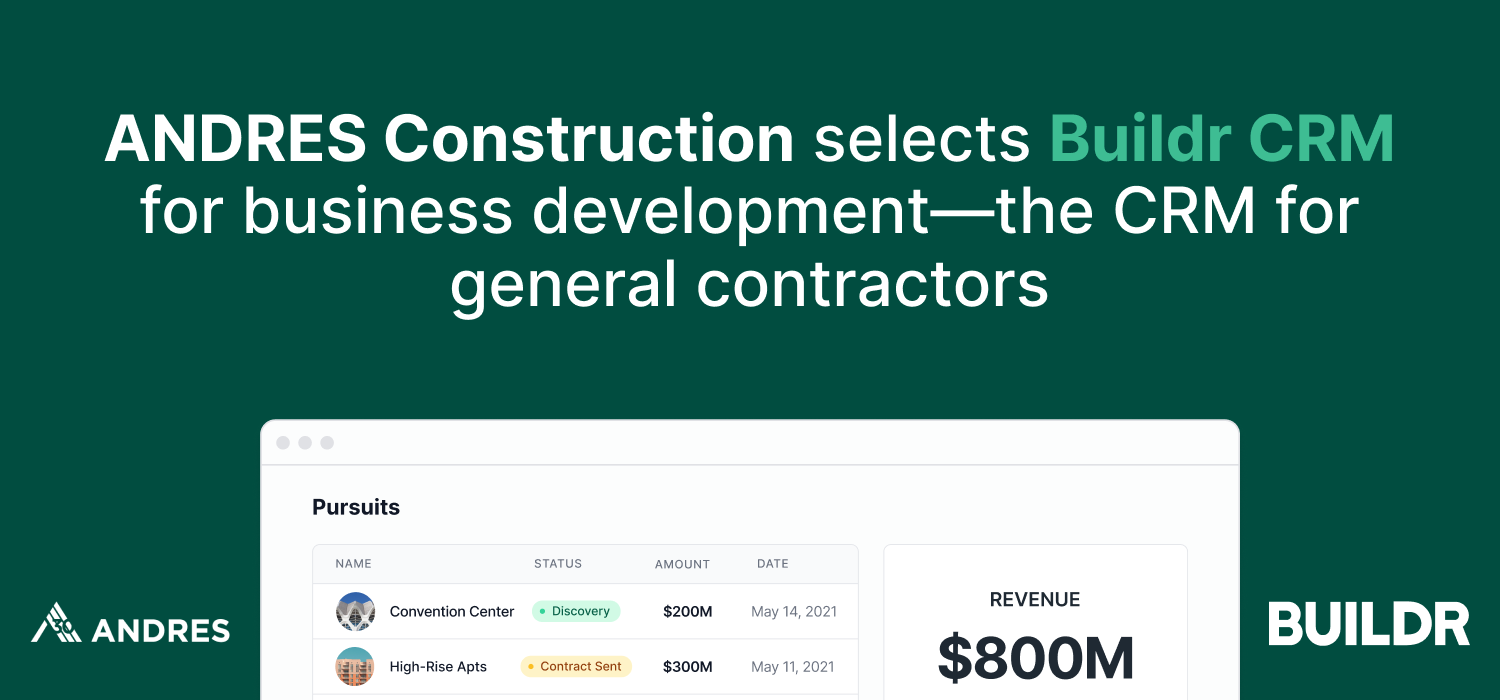 IRVINE, Calif. —
Buildr, a construction software company with the goal of helping general contractors grow their business, announced today that ANDRES Construction has chosen Buildr CRM to manage its relationship and project pipeline. Buildr will assist ANDRES—a 100% employee-owned 138th-ranked general contractor on ENR's 2020 Top Contractors list—by instilling organization and analytics, promoting collaboration, and forecasting a clearer future business outlook.
Buildr CRM, a customer relationship management solution built for general contractors, extends Buildr's product portfolio beyond post-construction with their closeout, project handover, and warranty management solutions, which ANDRES Construction and Buildr have previously partnered on. Buildr CRM empowers GC business development teams with a single source of truth for client data and pipeline forecasting.
"Buildr CRM naturally grew from our customer service products for GCs," said Buildr co-founder, Edward Gonzalez. "For years, our partners have asked us for aspects of a CRM to better manage their client data. Instead of piecemeal solutions, we knew we could build exactly what they wanted—a clean and simple CRM built specifically for the construction sales cycle."
"With Buildr, our client information's right at our fingertips," said Jonathan Haywood, Business Relationship Manager at ANDRES Construction. "It's extremely user-friendly and makes us a much more powerful force in the market. The first thing I do when I come into the office is look at Buildr."
"Buildr gives us systems and processes where we didn't have them prior," said John Andres, Operations Technology Manager, "I can't speak highly enough of the Buildr team and their dedication to building tools that make us smarter, leaner, and faster. Our goal is to be the leading GC in the DFW/Houston/Austin markets and Buildr is an integral part of that roadmap for us. "
Designed to be an easy-to-use, easy-to-implement, unlimited seat tool to maintain and accelerate business growth, Buildr CRM is free to try for 2 weeks. For more information, visit buildrtech.com.
###
About
Buildr, LLC is a construction software platform co-founded by Procore alumni Michael Stock and Edward Gonzalez, along with Caleb Taylor in 2018 with the primary goal of helping general contractors grow their business through tech-forward versions of traditionally manual processes. With a post-construction platform including closeout automation, standardized project handover, and warranty management, along with a CRM for business development, Buildr works with forward-thinking industry leaders like McCarthy, Big-D, XL Construction, and Greystar, among others. Learn more about Buildr at buildrtech.com.