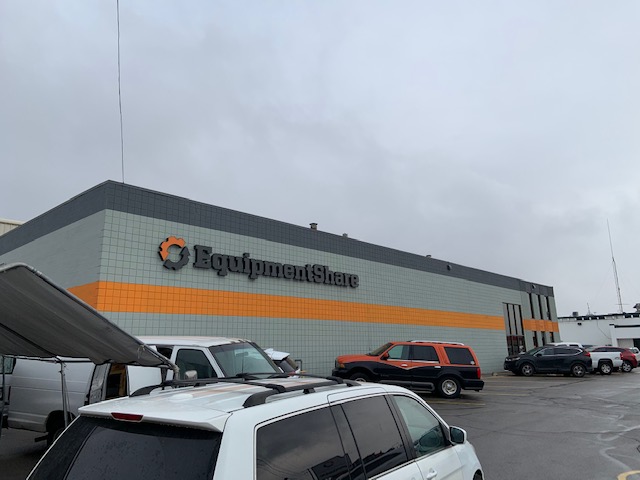 For additional information or media inquiries, please contact:
Amy N. Susan
Phone: (573) 890-0609
[email protected]
FOR IMMEDIATE RELEASE: January 28, 2021
Takeuchi Names EquipmentShare's North Salt Lake City Location New Authorized Dealership
EquipmentShare's North Salt Lake City location is the company's second Takeuchi authorized parts, service and equipment dealership.
NORTH SALT LAKE, Utah — EquipmentShare, an equipment and digital solutions provider serving the construction industry, is proud to announce its expanding partnership as an equipment dealer with Takeuchi-US in North Salt Lake. EquipmentShare's location at 295 South Redwood Road in North Salt Lake will carry Takeuchi's full line of excavators, compact track loaders and wheel loaders for sale and rental. It will also offer replacement parts and service, acting as an authorized Takeuchi equipment repair center for customers throughout North Central Utah.
"This news builds onto our growing partnership with Takeuchi," EquipmentShare CEO and Co-founder Jabbok Schlacks said. "We've been consistently impressed with their customer focus and dealer support and are excited to open our second dealership with Takeuchi. Their reputation for durability combined with our fleet management technology make us the premier dealer of next-generation equipment for greater Salt Lake City area customers."
This announcement comes less than a year after Takeuchi named EquipmentShare as its authorized dealer in mid-Missouri. EquipmentShare's flagship rental and retail facility in Columbia, Mo., sells a full line of Takeuchi equipment and offers certified service to retail and rental customers throughout mid-Missouri.
EquipmentShare's proprietary smart jobsite technology comes installed on all its rental equipment and on new Takeuchi retail equipment to help customers get the most out of their machines. EquipmentShare's fleet management technology tracks utilization rates, engine health and upcoming maintenance to keep machines in optimal condition and reduce downtime. The technology recently earned the company the 2020 Fleet Management Technology Company of the Year award by the AutoTech Breakthrough Awards.
Takeuchi has been a pioneer in the compact equipment industry since 1971, when the brand developed the world's first compact excavator. Since then, Takeuchi has provided innovative products to meet the needs of the modern contractor, and their dealership and service network spans across North America.
"Our experience working with EquipmentShare has been extremely positive," Henry Lawson, director of sales for Takeuchi-US, said. "They've done an excellent job representing our equipment at their flagship rental facility and retail location in Missouri, and we have no doubt that they will provide great sales and support for Takeuchi customers in the growing Salt Lake City market."
EquipmentShare will add additional compact/utility equipment sales professionals at the North Salt Lake location, each equipped with a truck and trailer to transport machines to various locations as needed. The authorized dealership location's rental sales representatives will be trained specifically on Takeuchi equipment, and all sales professionals will attend an annual sales training at Takeuchi's U.S. headquarters in Pendergrass, Ga. EquipmentShare will also provide factory-trained service technicians to ensure quality service and repairs are available to the Takeuchi customer base. To view job postings for the location, visit equipmentshare.com/careers.
To find an EquipmentShare Takeuchi dealership location near you, visit equipmentshare.com/dealers. To learn more about Takeuchi's line of loaders, excavators and more, takeuchi-us.com.
MORE
About EquipmentShare
Headquartered in Columbia, Mo., EquipmentShare is a nationwide construction solutions ecosystem provider that solves industry pain points through smart jobsite technology and equipment rental, retail and service distribution. More than a rental company, EquipmentShare's cloud platform enables construction and industrial companies to gain a real-time view into the connected jobsite. EquipmentShare's enterprise suite is OEM-agnostic and can track any piece of equipment, regardless of brand, to help fleet managers monitor assets, prevent theft and machine misuse, track employee hours and shifts, increase machine utilization, streamline maintenance and prevent unplanned downtime. Founded in 2015, EquipmentShare employs nearly 2,000 team members of diverse perspectives that push the boundaries of possibilities to create unparalleled customer value, support their communities and empower construction professionals to work more efficiently. EquipmentShare's growing presence of 74 locations, which includes equipment and service yards, research and development sites, administrative offices and specialty solutions, serve the rapid demand for the company's equipment and digital solutions. To learn more about the company, visit equipmentshare.com.
About Takeuchi
Takeuchi is an ISO 9001 certified manufacturer of an extensive line of compact track loaders, compact excavators, compact wheel loaders, and skid steer loaders. Founded in 1963, Takeuchi was the first company to introduce the compact excavator to North America, setting the stage for one of the highest growth product segments ever introduced in the compact equipment market. The compact excavator has become a main line product for both rental and construction/utility companies. Takeuchi continued to lead the compact construction industry with the introduction of the first compact track loader to North America.
###