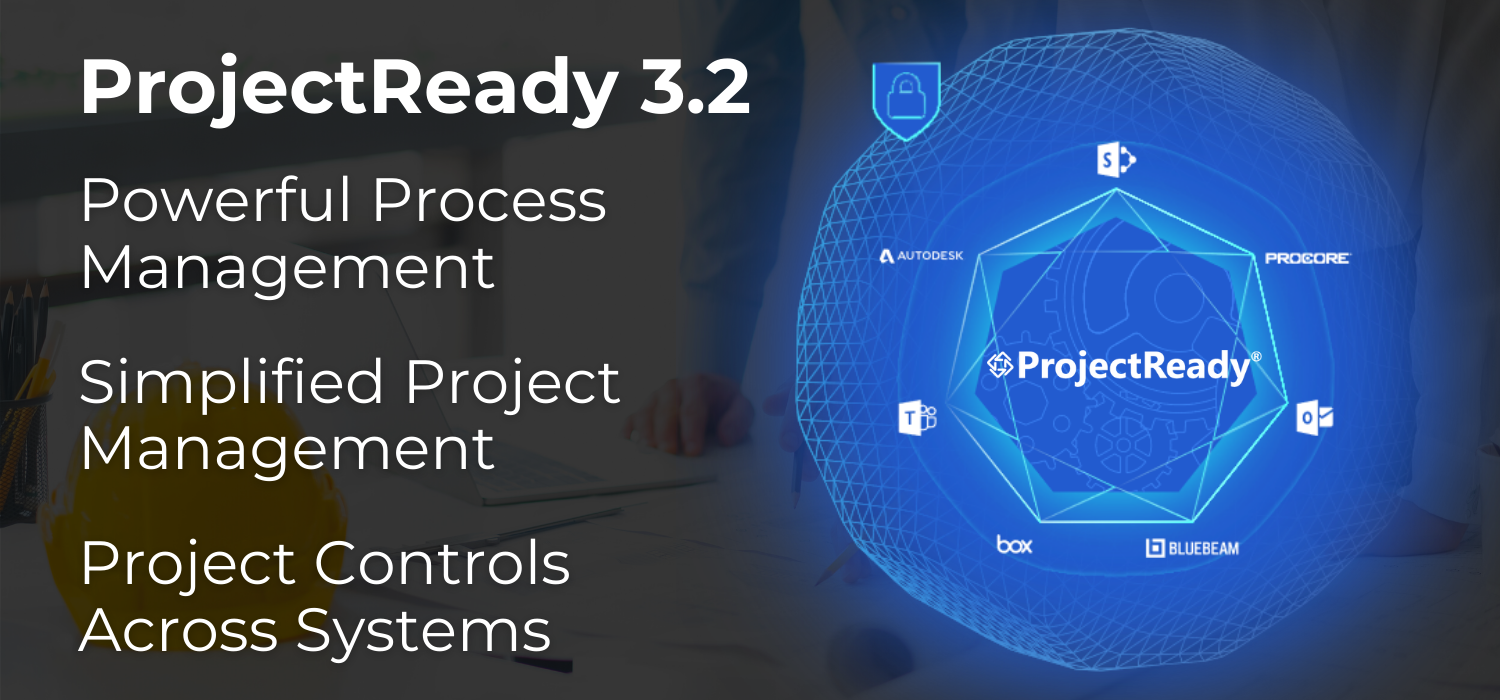 ProjectReady, a next generation SaaS collaboration platform for design teams & construction managers in the AEC (Architecture, Engineering, Construction) is proud to announce its latest release, version 3.2.
ProjectReady 3.2 adds a number of new features & integrations that drive tremendous value & ROI for the AEC/O; building on ProjectReady's unique feature set of securely connecting leading industry platforms to provide powerful process management, simplified project management and project controls across systems. With this release ProjectReady continues to deliver on its mission to address the challenges design teams and construction managers face today which includes:
- Searching for project content & communications*
- Maintaining effective document management & control across multiple systems**
- Staying on top of deadlines, especially across multiple projects***
- Internal & external project team collaboration****
- Project budgeting and managing billables*****
New ProjectReady features available with this release include:
Project Management
Project Email Management*
Setup the project group email automatically. Simply drag & drop emails from outlook into the project email box. ProjectReady's search means you can find it.
PlanGrid® Issues & RFI Integration***
Find & answer PlanGrid Issues & RFI's, directly from ProjectReady.
BIM 360® Issue Tasks***
Automatically create tasks from BIM 360 issues & centrally manage in ProjectReady, no need to traverse multiple platforms.
Document Control as Tasks*****
Schedule and create tasks for the creation and review of document control packages and mark billable with a click, ensuring you don't leave any billable activity on the table.
Project Control
Comprehensive Search*
The all new SEARCH from ProjectReady delivers the ability to search across emails, tasks, platforms, projects & content through a simple, modern user experience. This significantly simplifies & reduces the time spent on finding information.
Email Search*
Easily find & sort through all emails related to your project.
Cross-Platform Search*
With every action captured, easily find, view & access project information, wherever it resides to easily make sense of all data & workflows across platforms.
Document Control
Submittals**
Completing our solution for construction administration is ProjectReady Submittals. Ensure all the equipment, materials & supplies are reviewed & approved across project stakeholders & done in a disciplined, controlled & auditable way to meet project deadlines.
PlanGrid Document Control**
Connect content from PlanGrid & connected systems (BIM 360, SharePoint, Box & Procore) to create, distribute & track document control workflows.
Box Document Control**
Now you can send your document control packages to Box and/or SharePoint
Extended Auditability & Collaboration****
Connect document control workflows from the registration of content, to internal review, to external approval & extend your audit trail & simplify collaboration across your approval process.
IT Administration Automation
PlanGrid Administration Automation****
Build & connect PlanGrid for your project in under five minutes.
Box Administration Automation****
Build, connect & drive security in Box for your project in under five minutes.
Joe Giegerich, CEO of ProjectReady, said this of the new release - "ProjectReady 3.2 builds on our unique feature set that connects people to projects across systems and companies, making ProjectReady the first truly integrated environment for the AEC."
Learn more about ProjectReady 3.2: https://project-ready.com/projectready-3-2-adding-plangrid-comprehensive-search-and-submittals/
About ProjectReady
ProjectReady is a next generation SaaS collaboration platform that helps Design Teams and Construction Managers securely connect leading industry collaboration platforms creating powerful process management, simplified project management and project controls across systems.
We uniquely remove data silos through automation for the provisioning and securing of systems. This removes redundant effort, IT expense and drives ease of use, high adoption and return on investment.
For more information, visit https://www.project-ready.com/.