Editor's Note: The following is a guest contribution from Houzz, a leading platform for home remodeling and design.
In Europe, German kitchen brands have been dominant for decades. Now they are reaching out to markets in the U.S. and Asia, and are being met with acclaim there. What makes German kitchen systems so popular? Five factors contribute to their strong reputation at home and abroad.
German kitchens have a long history
If you do something for many years, you gain experience and have time to improve. And Germany has probably the oldest kitchen brand in the world. Poggenpohl, based in the east Westphalian town of Herford, has manufactured full kitchens since 1892. Other well-known German brands include Eggersmann, founded in 1908, Alno in 1927, Leicht Kitchens in 1928 and SieMatic in 1929. These companies deliver complete kitchen systems, with cabinets, drawers, countertops and more.
The period when many current German kitchen manufacturers were founded was also when the world was being influenced by Bauhaus and the Deutscher Werkbund (German Association of Craftsmen). These movements also influenced modern kitchen design.
Photo by Frankfurter Küche, MAK, Wien (Rekonstruktion 1990), Anordnung der Schütte
Margarete Schütte-Lihotzky developed what is known as the "Frankfurt kitchen" (pictured) in 1926, which served as a precursor to the modern built-in kitchen. Designed on the model of an industrial workplace, the arrangement of the equipment was intended to optimize workflow. Shortly afterward, in 1928, Poggenpohl presented a kitchen that consisted of connected cabinets, a separate shoe cupboard, a sink, a table and a chair. It also had a practical new "10-varnish" surface, so named because it was varnished and milled five times on each side.
In 1960, SieMatic introduced the first kitchen with integrated handles (pictured). Developments like these helped shape the appearance of the modern built-in kitchen.
Many German kitchen manufacturers are family-operated. "I do believe that family-owned companies have a special culture that, combined with a market strongly shaped by small family businesses — in other words, specialized dealers — functions beautifully," says Ulrich Siekmann, managing partner of SieMatic and a member of the company's third generation.
When circumstances demand it, one can accept a little suffering in the short term to be able to pass the company on to the next generation," Siekmann says.
Related story: Architecture to Know: The World's First Bauhaus House
'Made in Germany' has a good reputation worldwide
The success of German kitchen brands in Europe dates to the 1950s and 1960s — when the company was swiftly rebuilding after World War II. It was during these years that most German kitchen manufacturers began to export.
The companies' strongest markets are traditionally the Netherlands, Belgium, Switzerland, Austria, France and the United Kingdom; recently, countries such as Russia, China and the U.S. have become a focus. German kitchen manufacturers typically export their products to up to 60 countries. Their export percentages range from about 40 percent of production (Häcker) to almost 80 percent (Bulthaup).
Italy, another kitchen producer, is known more for luxury brands, such as Boffi, with smaller volumes.
Today, specialized German kitchen studios are based in countries around the world, from the U.S. to Australia and the Netherlands to the U.K. The label "Made in Germany," introduced in Britain in the 19th century — and intended then to deter people from making a purchase — has become a hallmark of quality.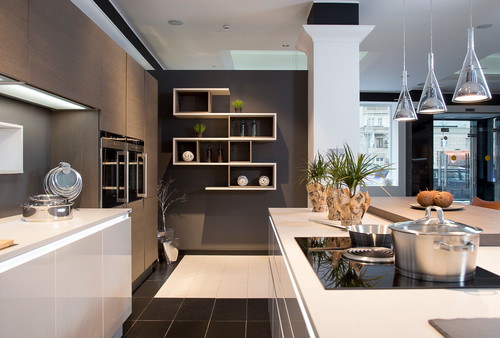 Photo by Official Showroom Nolte Moscow
Exports are the growth engine, but the domestic market, with comparably high purchasing power and eager competition among brands, is the foundation. It's an all-German game there: In 2014, export volume exceeded import volume by a factor of 14. Foreign kitchen manufacturers can hardly get their foot in the door in Germany. For upholstered furniture, the landscape looks completely different — two-and-a-half times as much is imported as exported.
Market and production volume are an advantage: They assure good prices, which provide good revenues, which make investments in production and research possible, which result in better products, and the cycle repeats.
German kitchens benefit from engineering traditions
A kitchen is a complicated product, and functionality is foremost. How easily does a cabinet open? How useful is the internal layout? How long will everything last with daily use? "I believe we in Germany have a good background in the field of engineering. In the case of kitchens, this, for example, means the fittings industry," according to SieMatic's Siekmann. "These companies have contributed to the development of the kitchen industry in terms of quality and functionality over the past 40 to 50 years.
There are hidden champions, such as Häfele fittings from the town of Nagold in Southwestern Germany — also founded in the 1920s — that are renowned worldwide. Techniques are often developed in exclusive cooperation with a particular manufacturer.
In the case of kitchens, "Made in Germany" refers to practically every component. It's interesting, in this regard, to note the geographical clustering. For example, 33 of the 76 German full-kitchen manufacturers are located in the state of North Rhine-Westphalia. What's more, 57 percent of the 16,400 people employed in the kitchen industry work there. Many other manufacturers are in the southeastern state of Bavaria, in particular its Swabia region. And with them, their suppliers.
Why is that clustering important? Because when the distances are short, cooperation increases over the long term. For example, Häcker Kitchens has been working for more than 50 years with cabinet hardware manufacturer Hettich, located nearby. Häcker's head of sales, Markus Sander has noted that he can ride his bicycle to the facility. "Despite the long-standing attachment, they naturally have to constantly keep up with competition," he said, "but as long as they grow as innovatively as their competitors, collaboration survives."
Photo by eggersmann küchen GmbH & Co. KG
Beyond furniture, many other components — from auxiliary equipment to electrical appliances — are crucial elements in a kitchen. And here, too, notable manufacturers can be found in Germany, many of them small or family-run companies with similar values to the kitchen manufacturers. 
In the category of auxiliary equipment and sinks, this includes Dornbracht, Blanco and Hansgrohe. When it comes to electrical appliances, there's Munich-based BSH Home Appliances, the largest home appliance manufacturer in Europe; Miele, founded in 1899 and still family-run; Gaggenau, which can trace its origins back to 1683, in the ironware industry; and Neff, founded in northern Baden in 1877.
These kitchen supply companies also profited from German engineering know-how. At the end of the 19th century, Carl von Linde developed modern cooling technology, dubbed the Linde process. Before then, iceboxes and ice cellars were cooled with actual ice. Linde AG, founded in 1879, quickly became the leader in cooling technology throughout Europe. 
The first industrially suitable, modern refrigerator in Europe was developed in 1927-28 by the Zschopauer Motor Works in Saxony. Years later, in 1992, the world's first modern chlorofluorocarbon-free refrigerator was produced by the DKK Scharfenstein company (later Foron) in Saxony.
Related story: Connect With Professional Upholsters
A German kitchen is finished on time
When asked what distinguishes the German kitchen manufacturers from the others, Michael Wunram, managing director of Eggersmann, replied, "It must surely be more the reliability in delivery and execution than the creative aspects." 
Stefan Waldenmeier, chairman of the board at Leicht Kitchens and the Association of the German Kitchen Furniture Industry, said: "German kitchens are distinguished by their total package, consisting of the availability of quality digital-planning data for the various kitchen suppliers, a clean graphic order confirmation, control of the orders, delivery logistics and adherence to delivery dates," in addition to production and design quality.
In short, no matter which manufacturer or CEO you ask, they all pledge strength around product delivery. "It's more difficult to send 40 or 50 kitchen components, ranging from cabinets to bases, to a point somewhere in the world than to ship a sofa there," SieMatic's Siekmann said. "And I believe the German kitchen industry has mastered this subject well.
In the end, kitchen buyers don't want to have to wait another two weeks for the stove and four for the missing cabinet fronts to arrive — they want everything at place in the same time. The close network of suppliers in Germany becomes a clear advantage for logistics, too.
Related story: A Comprehensive Guide to Kitchen Countertop Materials
Form follows function
Some critics of the German kitchen contend that its aesthetics falls short of that achieved by regional competitors, most notably Italian designers.
"The Italians are naturally a benchmark in design competence, of course, and one looks to them to try to learn something. But they can also learn something from us," Siekmann says. "Also, the individuality of North American manufacturers, who use a country-style kitchen approach, is noteworthy."
But the Germans are trying to catch up. Stefan Waldenmeier of Leicht points to the "development of a German design that follows out of the Bauhaus tradition and is finding international acceptance."
"Less is more" and "form follows function" are maxims that describe the typical German style well. For kitchens, and bathrooms, even, straightforward and restrained design is in high demand.
"If people in the U.S. see a German kitchen, they feel it's very futuristic," said Mayan Metzler, who sells German kitchens in New York. That may be because German design innovations are often technology-driven. 
Photo by the official showroom LEICHT-LEICHT Moscow Kutuzovsky
The Xtend+ light shelf unit by Leicht is an example. The wall-mounted aluminum shelves with integrated LED lights attach to powered vertical tracks in any desired position; no additional wiring is needed. The slatted doors covering the shelves open with the push of a button.
The SieMatic S1 was lauded in 2009 for its integrated illumination systems, hi-fi components and iPod docking station. Several manufacturers, including Tielsa and Sachsenküchen (with its Ergomatic) have recently added height-adjustable kitchen islands to their offerings.
Häcker is offering an integrated, hidden sound system within its kitchens, in which the base of the kitchen is used as a resonating body. Users can connect via Bluetooth without the need for a docking station on the countertop.
Some German boutique manufacturers have also recently established themselves due to their unique designs. A good example is Eggersmann, a small company that produces about 5,000 kitchens annually, including the Unique series (pictured).
"In this series, we are using only authentic materials, such as genuine stone, hot-rolled stainless steel and Corian — and consistently, not just for the work surfaces," Eggersmann's Wunram, who is among the fourth-generation of company leadership, said.
Warendorf, meanwhile, has developed the Hidden kitchen, a one-wall kitchen that can be enclosed behind panels that have the look of corten steel — suitable, perhaps, for large lofts.
Still, the German kitchen hardly needs to hide.