Editor's Note: The following is a guest contribution from Houzz, a leading platform for home remodeling and design.
Perforated metal is commonly seen in industrial and commercial venues, and now it is making its way into residential design. Its characteristics make it ideal for both structural and decorative applications because it shields and encloses spaces while allowing for light, ventilation and visual openness.
Perforated metal is a sheet of metal with holes of a particular shape and size that has a mesh-like look when viewed from a distance. The shape, size and pattern of the holes can be standardized or custom. Standard perforation holes are typically circular and can range in size from 1 millimeter upward. However, the bigger the hole, the thicker the metal sheet needs to be.
Custom perforated sheets are also available, with holes in a variety of shapes and sizes, including squares, rectangles, diamonds, crosses and more. Custom artwork can even be created by varying the size, pattern and layout of perforations.
Related story: How to Use Industrial Mesh Around the Home
What are the advantages of perforated metal?
Perforated metal can be used for structural and decorative applications in architecture and design, including balustrades, facades, stairs and screens, and its characteristics allow for creativity with light, sound and visual depth.
Perforated metal can be used to regulate light and ventilation within a space. It can block or limit direct light while still allowing airflow. This can assist in reducing energy consumption.
It can be used to enhance privacy and create a sense of enclosure without fully closing off a space, as it has a somewhat transparent effect when viewed from afar.
Perforated metal can diffuse sound. For example, panels installed along a ceiling can be used to prevent echoes.
It is a slip-resistant and easy-to-clean option for walkways and stair treads. It's also durable and has a high load-bearing capacity.
Outside, perforated metal on stairs, walkways and benches is ideal where drainage is required, as water can slip right through the holes.
Related story: See What Else is Trending in Modern Architecture
How to Use Perforated Metal
Stair balustrades
Perforated metal can be used for stair balustrades that are floor-to-ceiling, or used as a handrail.
Stair treads and risers
The strong and durable qualities of perforated metal make it a great choice for stair treads and risers, as its texture provides better resistance against slipping and it has a high load-bearing capacity for structural integrity.
This perforated metal staircase with steel mesh treads, risers and balustrade allows light and air to penetrate all spaces. It allows for both privacy and conversation and, in this case, becomes a venue for play.
Walkway
The design of this renovated house revolves around its long open-plan living space and the suspended walkway above, which links the existing structure to the new master bedroom. Perforated mesh lines the walkway, as well as the balustrade, allowing light to filter through and enabling a visual connection between the first and second floors.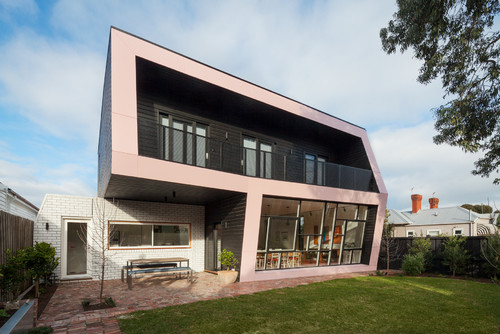 Exterior screen and balustrade
Used outside, perforated steel balustrades provide both safety and privacy. Here, the screens create a sense of enclosure in an outdoor space, and they can also serve as a handrail. They also help limit views into the house.
Exterior facade
A perforated metal facade can provide visual interest, as well as shade and protection. This custom-designed screen was inspired by the floral pattern on the original carpet and fireplace tiles of the house. It envelops the box on all sides and glows at night when the lights are on.
Outdoor awning
This perforated metal screen has been laser cut in a custom design and functions as an outdoor awning that reduces the effects of sun and rain on the exterior of the home. The greater the depth of the screen, the more protection it will provide. Plus, check out the great shadow it makes on the wall behind.
Decorative details
Perforated metal can also be used for smaller design details such as this pendant, which adds an industrial quality to the wood and glass interior.