Editor's Note: The following is a guest contribution from Houzz, a leading platform for home remodeling and design.
Open-plan living hasn't merely risen in popularity in recent years, it seems to be the mainstay of what many people look for in a home. At the time of this writing, there were more than 600,000 photos of open-plan spaces on Houzz.com, so it's clearly a popular lifestyle choice with a strong fan base. 

Why is it so fashionable, and what are the pros and cons of open-plan living? We posed the question to Houzzers and professionals alike, who came up with some interesting answers and gave us a look into a multifunctional future.
What is open-plan? 
An open-plan space has no or few dividing walls between areas. Generally, this refers to the main living areas of the home — the kitchen, living room and dining room — which creates an open, flowing layout with fewer traditional individual rooms in favor of a communal living space. (Bedrooms and bathrooms can, of course, be open-plan as well, but for the purposes of this story, open-plan refers to the main living areas of a home.)

German professional Bernhard Kurz of IFUB says that in Germany, "there's a strong tendency toward open-plan living. It's been a request in almost all of our renovation projects — in some cases to a greater and in others to a lesser extent. But it generally refers to living rooms, dining rooms and the kitchen — home offices and bedrooms are still preferred as separate, smaller rooms."
Three reasons why o

pen-plan living is great

What is it that draws us to this style of living? Andrew Brown, of Brown + Brown Architects in Britain, says: "Open-plan living remains extremely popular in the U.K., as it seems to sit comfortably with the way most people, and in particular families, live nowadays. There has been a marked downturn in the popularity of formal dining, and this has tied in with the rise of open-plan living."

In the U.K., where space is at a premium, architects are often called upon to open up small Victorian or Georgian homes by knocking down internal walls, joining rooms together and creating light and airy social spaces. 

"While it's common to be asked to design open-plan spaces," Brown says, "it's unusual for clients to request the opposite."
1. Open-plan design encourages sociable living. 
As a design style, open-plan has an impact on the way residents of a home use the space and interact with one another.

Melbourne, Australia-based architect Anthony Clarke says: "The majority of our clients love the idea of living within their homes in a more communal and connected way. Primarily, it allows the occupants of a space to become more open and engaged in dialogue."
2. It promotes indoor-outdoor living.
Clarke also describes the impact an open-plan living space can have on increasing light and the connection to the outdoors. "Our Engawa House project in North Fitzroy [Melbourne] is a clear example of open-plan living," he says. "The concept essentially allows every occupant in every part of the dwelling to experience great northern light and a connection to a private landscaped courtyard."

Australian Houzzer Karin Madgwick says, "In Australia, open-plan is the way to go, with this space then opening out onto a covered alfresco" area.
3. It's a good solution for small-space living.
Knocking down walls to open up small homes is a popular way of creating a feeling of space. Kurz says, "In those areas determined by a highly competitive housing market, an optimization of small flats is more likely — as there is less space."

Russian architect Alexandra Fedorova of Alexandra Fedorova Architect agrees that it makes sense for small and medium spaces. "If we're talking about apartments smaller than [3,000 square feet], an [open-plan] solution is more than rational," she says. "More and more people want to get an airy, spacious and well-lit apartment when purchasing a property. In Russia, many of us grew up in small apartments with tiny kitchens, and people desire new standards of living."

She adds, "Personally, I chose an open-space option for my own apartment and [have] never regretted it for one second."
Four reasons why open-plan living is not so great
While the argument for open-plan living is strong, there's still a valid counter-argument. Some people think it's a trend that will pass.

U.K. Houzzer margretg2 writes: "Like most things in interior design (flush-faced doors, blocked-off Victorian fireplaces, fake-stone chimney breasts, feature walls) open-plan is a fashion. When it falls out of favor, we'll all be putting back the stud walls the previous owners demolished."
Related story: 8 Architectural Tricks to Enhance an Open-Plan Space

fizzfan54 brings up the issue of privacy — or lack thereof — saying: "As long as rooms are big enough, I prefer closed rooms. How on earth do you get away from the 'maddening' crowds otherwise!"
1. Cooking smells can be a problem. 
Kitchens are at the heart of many open-plan spaces. The 2015 Houzz Kitchen Trends Survey revealed that the majority of British homeowners taking on a kitchen project in 2015 were planning to incorporate an open-plan design. Similarly, 48% of Canadian respondents were looking to install a kitchen that was "open to other rooms" in 2015. 
However, the role of the kitchen was a hotly debated topic among the Houzz community, with many bringing up the topic of cooking smells and dirty dishes.

Spanish Houzzer Luisa Ramos writes, "I love open-concept kitchens, but if the family is big and they use the kitchen a lot, it might be inconvenient, because all the smells will spread across the house and in winter it is really difficult to get rid of them."
2. Kitchens are often noisy. 
Ukrainian Houzzer Olena Tkach writes, "A separate kitchen is a must for our family, because I often cook when everyone is sleeping, so I need closed doors in order to be able to use blenders and mixers and even chop products with a knife." But she adds, "Everything else (dining, watching movies, hobbies, resting and chatting) may be incorporated into one open layout to allow easier communications between family members."

Architect Fedorova says: "An ideal property would have two kitchens — one open-space kitchen with a joint living zone and a working one. We usually use this layout in our country house projects."
3. Open-plan can look messy and reduce storage. 
When you remove walls, you also remove storage, something most homeowners crave, so this is one reason why open-plan is not a universally popular layout. 

German Houzzer Ich Du says: "An open living-kitchen is nice and bright and looks much bigger. But … I think it's not great if the kitchen looks dirty and my guests see this. What I really want is a large kitchen, where you can eat every day with the family, and also in the living room a dining area for friends and visitors."

Russian Houzzer oxana1963 says, "If your kitchen is not big, it gets even smaller with the joining, as the wall where you could put your cabinets or a fridge will disappear."
4. There's no privacy. 
oxana1963 is one example of a homeowner who's tried open-plan living but wants to move back to a more traditional, closed-room layout. "In my new apartment, I joined [the] kitchen and living room," she says. "Now I'm thinking [about] how to separate them."

One of the problems she encountered with open-plan living was the mess. "When you have guests, at some point they start seeing dirty pans, dishes, pots, etc. It doesn't really make your living room prettier," she says.

"If you don't have two living rooms or a separate study," she continues, "your partner won't have a chance to have a little chat and a cup of tea with her friends while you are watching TV or reading in the living room. You wouldn't invite your friend to the bedroom for a chat!"
How did open-plan living become so popular internationally? 
As design influences become increasingly global, the flow of ideas from one country to another enables concepts to become international trends. Has this influenced the open-plan trend? 

Enrique Espinosa, partner at PKMN Arquitectura in Spain, thinks this global exchange of design ideas has had an impact on the rise in popularity of open-plan living. "Spanish architecture, following the Mediterranean tradition, has always stood for the non-open-plan space," he says. But things are slowly starting to change. "Living in a global world and seeing different types of houses on television, specifically American and British ones, and also more accessible room models, like those displayed in the Ikea stores, broadens the type of house we are used to."
Related story: 25 Design Trends Coming to Homes Near You in 2016

Espinosa thinks this access to global trends has had a drip-feed effect on local design. "Step by step," he says, "we start to think these models are more appropriate to a contemporary way of living," which he describes as being very different from the traditional Spanish model of "a married couple with two children who used to leave the nest in their early 20s."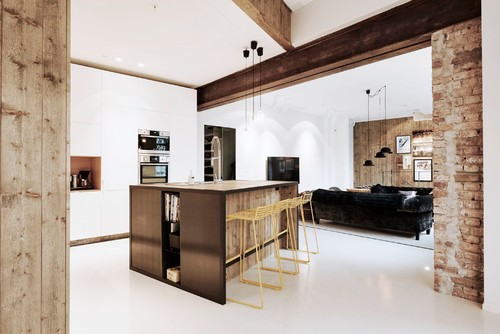 It's a hot topic.
Open-plan living is clearly a red-hot topic amid the Houzz community, based on the volume of discussions started about it.

On Houzz U.S. at the time of this writing, there were some 77,000 discussions logged in the advice section on the topic of "open-plan help." When you search Houzz U.K. for discussions with "open-plan help" in the title, there are 2,400 results, and in Australia, 1,400. 
The poll. 
In an informal poll, the majority of Houzzers preferred an open-plan to a closed-plan layout, and in a couple of countries by a large margin. More than 60% in the U.K., Russia and Spain voted for open-plan.

The countries with the strongest vote in favor, however, were Germany and Australia. In Germany, four out of five Houzzers answering the poll voted for open-plan living. And in the land of warm sun and big skies, three-quarters of Australian Houzzers voted for open-plan over closed layouts. Indeed, one Australian Houzzer, Kerrie Langloy7, commented, "It's a no-brainer in Australia…. We love open-plan and indoor-outdoor living spaces."
The way forward?
However, there's always a middle ground, and many Houzzers have come up with interesting solutions to the problems created by open-plan living. Australian Houzzer howde1 suggests the ideal solution is the "ability to open or close off spaces as required," and it seems flexibility of living spaces is key for many modern-day homeowners.
Related story: Browse Thousands of Inspirational Living Room Designs

In Germany, Mimi Fuchs says: "Open spaces are something beautiful, but there are occasions where several smaller rooms are more practical. I therefore find solutions great where the layout can be customized with large sliding walls or doors."

British architect Brown agrees, saying that when his team members design an open-plan space, they "still ensure this doesn't necessarily equate to a lack of privacy, and opportunities for individual moments are still provided."